9 Best money earning app in India [Real Money]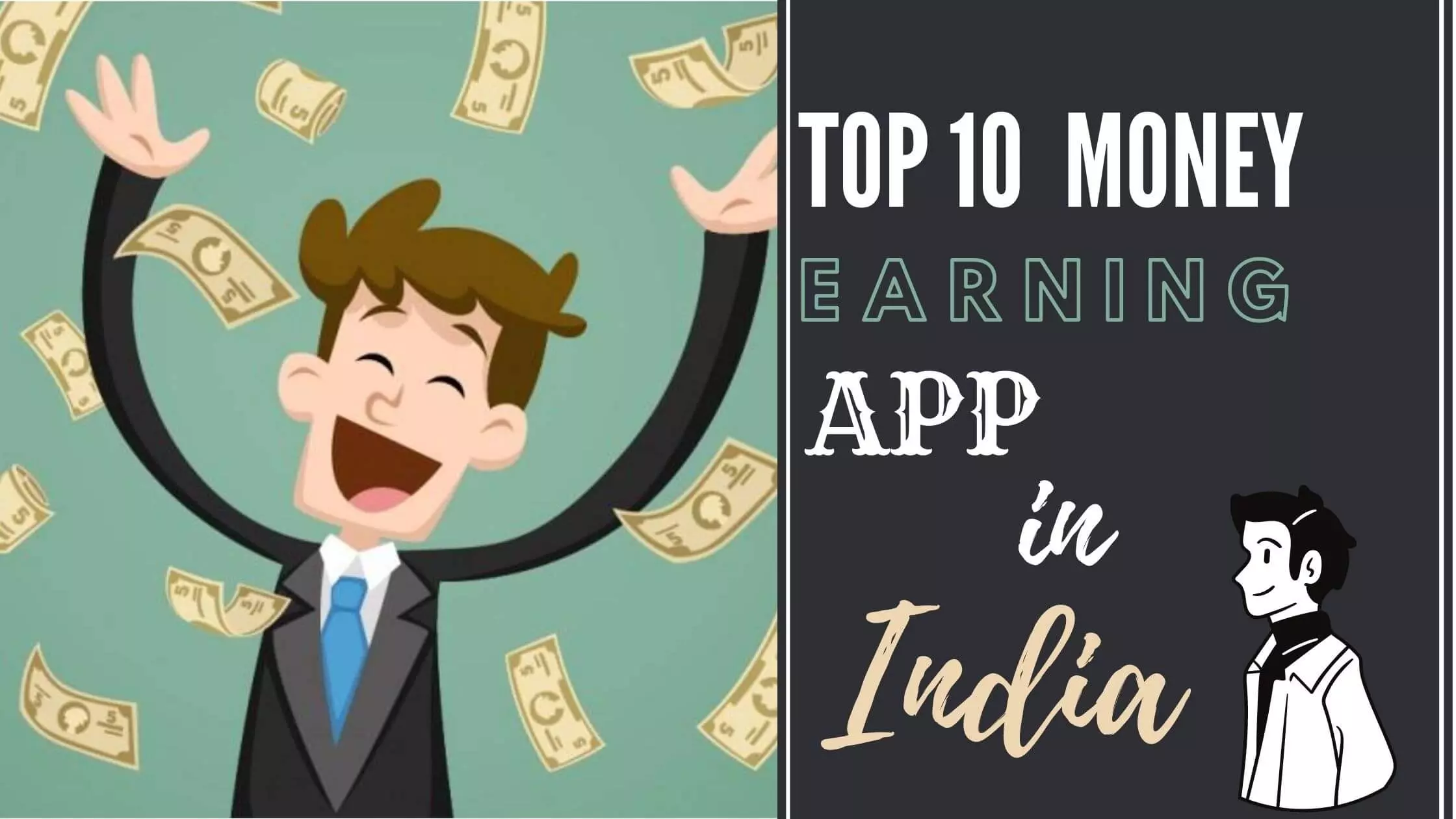 Want to earn real money by using apps ?
You are a student or employee or a house wife it doesn't matters, earning money apart from your regular earning or pocket money in always good idea. Therefor, I have made a list of Top 9 best real money earning apps in India.
Earning money on the side basis gets easier with these awesome apps. You just require a smart phone. Almost everybody has a phone now a days. After that you can start your earning money with apps.
What are money earning apps ?
Money earning apps help you earn money from your mobile phone. If you want to start your own earning and you don't have a laptop or computer these apps will help you out. 
Do real money earning apps exists ?
Many people might think it is complete waste of time to search app which pay you real money, but there are several app and websites online which will actually pay you. So we have made a list of best real money earning app in India which will pay you real money. Many people earn up to 5,000₹ monthly using this apps
Top 9 Money earning apps in India [Genuine Apps]
There are many sites and apps on Internet which actually shows you that they will pay you money after completing such and such tasks, but those tasks are impossible to do or requires lots of efforts. Therefor to help you this are the genuine apps which will pay you real money.
1) Snowy: Money earning game app [Paytm cash]
Snowy is a new app most of the people don't know about this app. This app allows you to earn money by playing against another players. First you have to add money from your Paytm account minimum amount is 10₹. After that you can enter into one game and you will earn 20₹ if you win and loos 10₹ if you loss in the game. You can earn as much as you play. If you are good in games you should give it a try.
2) Meesho: Best app to make money at home
Meesho is one of the most popular app mostly used in India. If you are a house wife it is completely fare to use app. You can earn money by reselling new products from this app. Meesho pays you commission on every product you sell. You can sell products by forwarding them on whats app groups and other social media  networks.
To start you your earning with Meesho app you just have to install the app no investment is needed. Check all the products available on Meesho and select any one you would like to sell. After that you have to share the image and product details to your friends if the like and buy the product you will get a certain amount of commission from that product.
The other way to earn with this app is you can also sell your own product. If you are good at hand made stuff you can sell in on meesho to earn real money with this app. Register as supplier in messho
3) Swagbucks: Earn money and coupon codes
Swagbucks is global website which where you can earn good amount daily. It is one of the most trusted website all over the glob. Swagbucks give you SB on completing tasks like playing games and answering simple surveys. This SB can later be transferred  into real cash or you can redeem amazing coupon codes of famous sites like amazon it depends on your choice.  
While talking about converting SB into real money let me tell you 100SB are equal to 1$. This means 100SB is equal to around 78 INR currently [April,2020]. You can easily make up to 200-300₹ per day on Swagbucks and transfer your amount by PayPal. First you have to visit the website and create your Swagbucks account, after that you will get the link to download the app. Guess what ? You will also get 10$ signup bonus. Over all it is the best app to earn money in India.
4) Helo App: Real money earning app in India
Helo is a popular app which  has almost around 2 Million active downloads on play store. It has daily tasks to complete which results in earning points those points can later converted into real cash. This cash can be later transferred to your Paytm account or your bank account.
Helo also has news feed where you will receive interesting feeds and videos just like Instagram. The difference is you need not to follow anybody to see their post as like in Instagram. 
Helo will pay you 350₹ per every referral. In other words it will give a gift of 350.rs on every user you invite to the app. This is not one step process. New user has to complete a 15 days task then you will receive total of 350₹ as the task goes on completing.
Think like you share this app to 8 Members and ask them to use it for at least 15 days you will earn 350 X 8 which is equal to 2,800. You can easily earn up to 5,000-10,000 monthly if you have good following. Hence it is the best app to earn real money in India
5) Google Opinion Reward: Earn money answering survey
Google Opinion Reward is app developed by Google, which means complete trust. In this app you will be asked few questions and you have to answer them honestly. Then, you will get rewards from google. It will give you 3-20₹ on every survey you attend.
You will receive notification every time you have a new survey. After you open the app you will see the survey on the main screen. You have to react fast, for instant if you do not answer the survey on time it will get expired in around 1 day. It is preferred to  keep your GPS on while traveling to get more surveys. Hence it is one of the best app to earn money in India.
6) Pact App: Earn money for exercising
Everyone wants to be fit and healthy. This app named Pact pays you for being fit and healthy. How good is that right !
Apart from helping you make some real money, pact will also help you motivate to be healthier. This app is available on both android and ios.
This app will pay you if you complete goals set by you. If you don't do so you have to pay money which will be used to pay others who have completed their goal.
7) YouTube: Genuine money earning app in India
YouTube is the second most used Search Engine all over the glob.  You might think how can I earn money on YouTube without computer or laptop ? No worries, I am here to help you out. 
Earning on YouTube can also start only with your mobile phone. In these days every one has a smart phone with great cameras, which will help you earn real money. What you have to do is just start recording what you are good at and upload it on YouTube. Belive me you will do well you just have to keep patience. 
Let me explain you how can you do that. If you are a house wife and good at cooking food you can record your food recipes and upload it on YouTube, you will really get good audience. You are a very good football player ? upload your tutorials playing football. If you have good sense of fashion upload videos teaching others about fashion. 
You can easily make up to 70,000₹ every month if you build great audience. All you have to do is be regular and never give up and keep patience. Don't think a lot just start it now whats's wrong in giving a try ? :-). Above all it is the best and genuine app to earn money online in India.
MPL is one of the app not available on both app store and play store, but you can download it from it's official website. You can earn real money in this app by playing games.
This app is also advertised by Virat Kohli, therefore you can trust it.
MPL app has various types of game. You can play any game you like. In this app if you score the highest in a particular game for a particular provided time period, you can earn really good amount. Money you earn with this app depends on your rank in game.
9) Unacademy Educator App
Unacademy is a free learning platform in India. Students use unacademy app to get improved at their studies. Unacademy is completely free it charge only fee of 200 rupees if you want to download the lessons. As it is free it has huge base of students viewers.
Unacademy also has a app named Unacademy Educator App where you can make lessons and upload on the app. If you are a graduate you can easily make videos on simple topic and make money online.
Unacademy Educator App will pay you based on your lessons and number of views you get. It is good source of earning money from home with your mobile phone in India.
I have listed only genuine app to earn money in my list. You might have noticed I have not mentioned apps like Roz dhan app and many other apps in that category. Because they work only for short time and will not help you in earning money.
Many people on YouTube and Blog article will talk about this apps because they pay them commission to do so. For instance, let us assume you install those apps I guarantee you will not use them more then one week. 
Apps which I have listed to earn money takes time Except Snowy. But these apps will give you guaranteed result. However great things take time 😉 
You will find various apps pretending they will pay you money with in days or weeks, well it's not true. Get it a try once if you want. You will get irritated and uninstall the app with in a week. 
Can I really earn money through apps ?
Yes, there are various genuine money earning apps available on play store. When I say genuine apps I really mean it.
Is their any app which can help me earn money instantly ?
You will find various apps pretending they will pay you money with in days or weeks, well it's not true. Get it a try once if you want. You will get irritated and uninstall the app with in a week. 
Can I make money playing games ?
Yes, you can make money while playing games. When I say this I do not mean playing games like MPL and other stuff. You can actually earn by playing PUBG tournaments and other competitive games you can also join a eports team.