How to create a blog for free in 2023 and make money [complete guide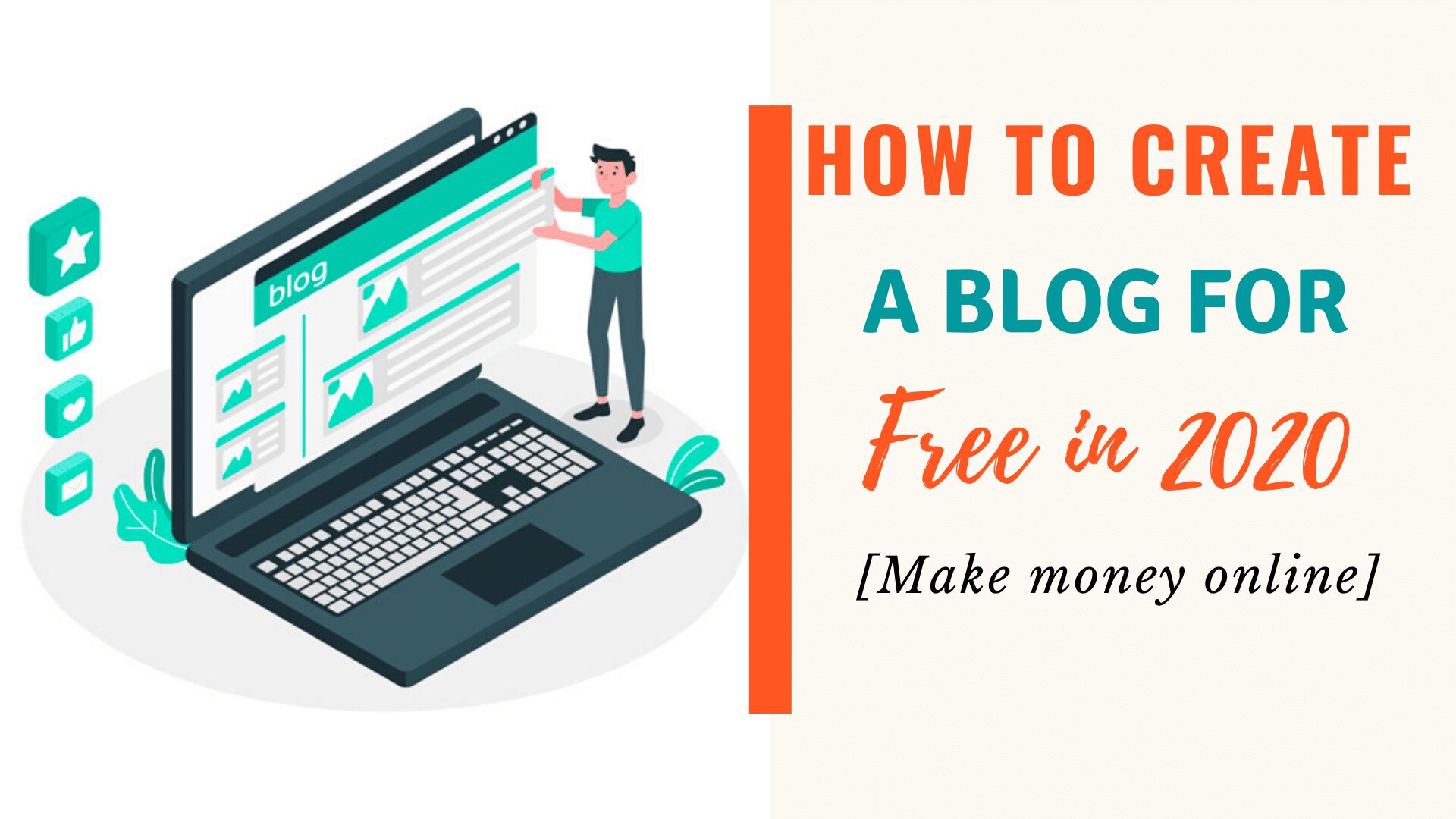 You are interested in making money and make your own identity, but don't have enough money to start ? Nothing to worry about. I will guide you how to create a blog for free in 2023 and make money online. 
Starting a blogging website almost has no cost as a beginner other than hosting and domain. Many people interested to make money for free can't afford hosting and domain. Therefor I will show to how to get it for free.
Many people might have told you it is not possible to make money with a free domain or hosting. I used to think so in my early stages, but it is not like what we think. Rather I will recommend you to start with a free blog if you are a beginner.
After reading this post you will learn how to:-
Get free domain and hosting
Install WordPress on your free website
Build your free blog with WordPress
Start blogging
Earn money with free blog
How to create a free blog and make money
You can create a blog for free and make money in 9 easy steps. This easy steps are listed below.
1) Select niche and name for your free blogging site
Selecting niche means selecting a topic for your blogging website. Some of the examples of blogging niche are fashion blog, tech blogs, moto blogs etc. You can select one based on your interest.
Why is it important to work in a niche ? Almost every successful blog has it's unique niche. This shows your fields of expertise. So it is important to have niche ideas for blog you are going to start
After that you have to select a name for your free blogging website. It is better if your name matches with your niche. However it is not so important, so don't waste a lot of time thing for a name. Name does't describes you, but your content does. Therefor it would be better to invest time on content instead of name.
2) Register with Pro Free Host: Get free hosting and domain
Getting free hosting and domain is the main requirement to start a blog free blog and make money. Pro Free Host is the website which will help us do so. To get free hosting and domain get registered with Pro Free Host
After that you have to verify your email address. Once you click on verify button sent by Pro Free Host through email you will be redirected to your account. After that click on create new account as shown below.
Then you will have to fill a form entering domain name you would like to address your blog at as shown below.
Check if domain name is available. If the domain is available you are all set to create a blog for free and make money. If domain is already taken try for a new domain.
No investment needed
You can get blogging experience for free
Earn money without investing
You will get known about is blogging is for you or not
Content can be transfered when you move to your own hosting and domain
Help you grow faster when you switch to your professional blog as you will have experience
You will not have a perfect domain address, but have a subdomain (example.ezyro.com)
You will have to again work hard with your new domain
Can't build a brand with free blog
3) Install WordPress in your free blog
After you get your domain name from Pro Free Host click on manage button in the client are and click on manage button in front of your domain name.
After that click on control panel button.
Then you will be redirected to your control panel. Scroll down to software area and click on scrofulous apps installer as shown.
After that you will see WordPress. Click on install button beside that. Then you will get to a form where you have to enter name and for your website. You will also ask to make a user name and password to login as administrator in WordPress as shown.
Then click on install button at the bottom. WordPress will get installed automatically on your website. Then you will receive a congratulation message and administrative URL as shown.
This URL will be used to log in into your WordPress dashboard. Click on administrative URL and use your user name and password as set before.
Then you will be redirected to your WordPress dashboard. Click on customize button to customize your blog and add new them
Controlling and designing your blog gets much easier after installing WordPress in your website. You check tutorials on YouTube to learn how to use WordPress. It is easy to use does not need and coding qualifications. You just have to drag and drop elements to build your website.
4) Design your free blog
Designing your blog requires you to select a free them for your blog. A them helps your website to look more attractive and creative. It also makes your blog mobile responsive. This helps users to browse your website easily on mobile.
This is also one of the important factor to rank on google. As more people use mobile phone to browse internet than desktop or tablet google don't like blogs which are not mobile friendly
How to Install a them to your blog ?
Installing a them is even more easier then creating free blog. Follow the steps to install a them in your blog.
Step 1:
Go to your WordPress dashboard then take the cursor to appearance and click on them
Step 2:
Click on add new
Step 3:
Select a them you want to install in your free WordPress blog. Use the search tab to search a them you want to install.
Here are few of the responsive, fast and light weight WordPress them, can be used for any website.
This all them are free to use. You can also upgrade the plans to get more benefits. Search this them in WordPress to and install them to give your blog a new look.
5) Install essential plugins to start free blog
WordPress has various free plugins. This are important to start a blog. Plugins make your work much more easier.
What is a plugin ?
Plugin is software which has various functions to perform. This software (plugin) can be used/install on any WordPress website. Usually plugins are used to add new functions to your free WordPress blog and it makes your task easir.
Why Plugins are important for your free blog?
Plugins are essential to make your blog successful. Various WordPress plugins has various functions. Plugins are used to collect contatc information, Improve SEO, improve blog speed, create a online store etc.
There are thousands of plugins available on WordPress. All of there are free to use, however you can upgrade any time to enjoy more features. some of the best WordPress plugins are
Essential WordPress plugins
6) Write your first free blog
Now it's time to write your first blog post. You should write a unique and quality content when creating a blog for free. Write content which can help people solve their problem. Never write messy content, this irritates the visitor and your created blog would never rank. First step while writing a blog is selecting a keyword.
What is a keyword ?
Keyword is a term or the word that describe your content. It is the word you want to rank for on SERP (search engine result page) This helps search engine to show your blog as a result when somebody search your keyword.
How to select a keyword ?
As you are a beginner and trying to make money with a blog you should use keyword with low competition. Keyword with low competition means where no big brands are already ranking.
Usually a keyword with low competition has low search volume or no search volume. However as a beginner it doesn't matter. You should only focus on low competition keyword. Long tail keywords usually has low competition
What is long tail keyword ?
Long tail keyword refers to a long keyword. This type of keyword usually have low competition and are easy to rank for. Example for long tail keywords are "dog food to gain weight" main term here is dog food.
After selecting a keyword according to your niche you have to start writing your content. Read the does and don'ts below to have a idea how you should write your blog post. You can check perfect keyword for your blog with Uber Suggest free tool by Neil Patel
Start writing
After selecting a keyword according to your niche you have to start writing your content. Read the does and don'ts below to have a idea how you should write your blog post. You can also check this awesome E book by SEMrush on content marketing checklist to gain free knowledge on how to start writing content.

Do's
Focus on solving problem
Write for visitors not for google crawl bots
Research deeply before writing
Write deep content with complete information
Use images and videos in the blog post
Use headings and sub-headings to make it easier to read
Divide your content in various paragraphs
Don'ts
Do not add keyword everywhere on the blog, this will not help you rank high
Don't copy and paste content from other sources
Do not link to irrelevant sources
Do not write long paragraph this irritates the reader
7) Share your freely created blog
Now when you have published your first free blog you have more to do. Your blog would net get any visitor organically in the initial stage. You have to work hard to promote your blog after writing it.
When I say promoting blog I don't mean paid promotions. I will help you promote your blog for free. Here are some of the tips to share/promote your blog for free.
Share blog on all your social media platforms with all friends. Use Facebook groups and pages in your niche to share your content.
Create a account on Pinterest and share your blog images with a link to your blog. Check my pinterest account to have a idea. You can also use Quora to promote your blog.
Give ans in quora and leave a link to your blog if question is related to your content. Don't leave a link in every of your answer, this will block your Quora account. Check my Quora account to have a idea
If you have written quality content that solves people's problem you will however get few visitors in the initial stage.
8) Check your statistics
It is important to keep a eye on statistics of your blog. This help you know how many clicks you get and how many views you have on a particular post.
To check your blog's statistics you have to verify your website with google search console and google analytics. Site Kit will help us do that.
What is Google Site Kit ?
Site Kit connects your website to google tools like adsense, search console and google analytics. It is kind of one Solution to manage all your google tools at a same place. This shows you the result of how people like your site, which page performs well or what are the improvements you can do with your website.
How to verify search console and analytics with Site Kit ?
Step 1 :-
Log in to your WordPress account of your website. Then go to plugins tab on the left side.
Step 2 :-
Click on add plugin then search for Site kit and click on Install Now. Then activate the plugin.
Step 3 :-
Once you activate the Site Kit plugin a Site Kit tab with Google logo will appear in the left side bar. Click on that. Then click on Start Setup
Step 4 :-
To start the setup procedure you first have to sign in with your google account
Step 5 :-
Google will then ask you permission to check your website data to verify you are the site Owner. Allow google for everything it asks.
Step 6 :-
When you are done with all this steps you will be taken to site kit Dash Board. Then you can add various Official Google tools from Dash Board like search console or AdSense if you want. Without adding codes to your website.
After you have connected all your google tools to Site Kit you can manage the site from the dash board as shown above.
Check this: How to start a gaming channel on YouTube 2023 [complete guide]
9) Make money with free blog
After completely setting up your blog and publishing new blog post constantly you will get some visitors in around 5-6 months. You blog will rank on google if you do everything perfect.
Now it's time to start earning from your blog. There are various methods to monetize your website.
You can place ads on your website to start your earnings. Google adsense will help you do so.
What is AdSense ?
AdSense is a ad network where publishers get register and verify their websites or blog to monetize the website/blog. AdSense won't approve new blogs. Before applying for google adsense you must know that adsense only approve domains which are at least 6 months old and have unique content.
As a beginner everyone want's to monetize blog as soon as possible. Google AdSense won't allow you do so. You can check this best adsense alternatives for small website with low traffic to monetize your blog as soon as you start.
The other and most popular way to monetize your blog is adding affiliate links to your blog posts. You can do that by writing reviews or comparing products. After writing a review or product you can add their affiliate links to earn some commission.
What are affiliate links ?
Affiliate links are basically promotion links of a product or service. To get affiliate link you first have to select a product or service that has affiliate program. Then you have to register as an affiliate and start promoting their products/service to get commision
Some of the best affiliate platforms are amazon associates, ClickBank, etc. In this program when somebody click on your affiliate link you will get commission for every product they buy in next 24 hours.
Conclsion
You can also create your own blog for free and make money. As I explained you can get free hosting and domain with Pro Free Host. Also you can easily build website with WordPress them and plugins as I explained above.
Anybody can do this. You do not need to have technical knowledge or coding skills to manage a blog. You can learn this easily as time passes. Comment below if you have some problem. I will try to help you out or contact me at any of the social media platforms mentioned below
FAQ
Can I get domain and hosting for free?
Yes, there are various platforms on internet that provides free domain and hosting.
Can I make money with free domain or subdomain?
Yes, you can make money with free domain. You can place ads after getting approved by adsense. If not you also have many alternatives like propeller ads which gives instat approval.
Do AdSense approve free bogs?
AdSense has nothing to do with over all price of your website. It doesn't check your domain or hosting. If you write unique and quality content consistently adsense will approve your free blog.